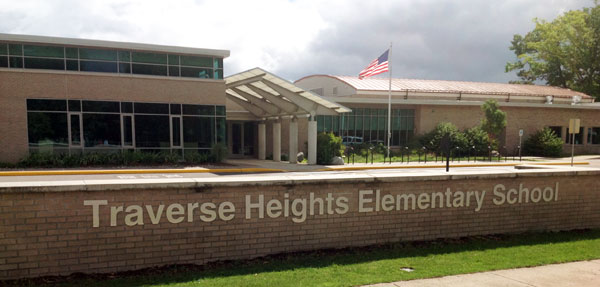 Welcome to Traverse Heights
Home of the Roadrunners!
Traverse Heights, serving preschool through fifth grade students, is one of 12 elementary schools in the Traverse City Area Public Schools (TCAPS) district. It is a community of engaged learners who are inspired by high expectations and feel connected to their school community.
With a variety of opportunities, parents are encouraged to volunteer at Traverse Heights and become engaged in their child's school environment. Community partnerships also play a large part in the success of our school and our students.
Traverse Heights offers many unique opportunities that help students grow as people and as learners. As an International Baccalaureate Primary Years Programme candidate school*, Traverse Heights students develop the necessary skills to function in a rapidly globalizing world. All school staff supports and values teaching 21st Century students to think and learn and ensure all students are on the road to career and college readiness.
Building Creative, Critical, Global Thinkers
Daily Spanish language instruction
Meets Michigan Department of Education curriculum content standards
LEAP extracurricular activities available to all students
Points of Pride
Traverse Heights has 17 container gardens, an outdoor hoop house, and an indoor greenhouse where students learn about agriculture and the importance of healthy eating in a hands-on way.
Students host a Father Fred Foodraiser each year, and with the school's close proximity to the pantry student are able to hand deliver all the food they collect.
Traverse Heights has solar panels installed on its roof which produce energy for the school and serve as a source of science, technology, engineering, and math (STEM) education opportunities for students.
*Traverse Heights Elementary School is a candidate school** for the Primary Years Programme. This school is pursuing authorization as an IB World School. IB World Schools share a common philosophy—a commitment to improve the teaching and learning of a diverse and inclusive community of students by delivering challenging, high quality, programmes of international education that share a powerful vision.
**Only schools authorized by the IB Organization can offer any of its three academic programmes: the Primary Years Programme (PYP), the Middle Years Programme (MYP), or the Diploma Programme (and in addition, the IB Career-related Certificate). Candidate status gives no guarantee that authorization will be granted. For further information about the IB and its programmes, visit

http://www.ibo.org.