International Baccalaureate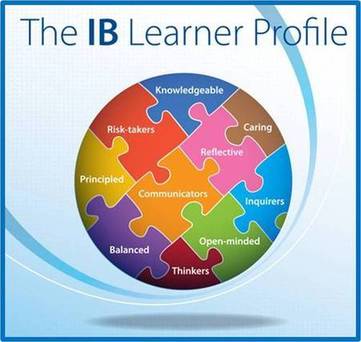 International Baccalaureate* (IB) is a high-quality education program designed to develop the intellectual, personal, emotional and social skills to live, learn and work in a rapidly globalizing world. IB offers three levels of programming: primary years programme, middle years programme, and diploma programme. International Baccalaureate is an inquiry-based approach to teaching and learning, where learning is directed by teacher and student questions. The focus is on the acquisition of knowledge, concepts, skills, and attitudes using the required State of Michigan benchmarks.
Middle Years Programme (MYP)
The Middle Years Programme (MYP), designed for students ages 11-16, encourages students to make concrete connections between their studies and the real world. MYP aims to develop active learners who can empathize with others and encourages students to learn about issues and ideas that have local, national and global significance. MYP is offered as a learning option for 6th-8th grade students at both TCAPS middle schools. [

More about MYP]
Frequently Asked Questions
What are the benefits of an IB Programme?
Emphasizes multicultural understanding
Brings national and international credibility to our schools
Promotes teacher communication within and between schools
Reinforces TCAPS' commitment to community, service and the impact of our actions on the world
Develops the habit of reflection on our actions and learning
Connects classroom learning to the world outside the classroom
Learn more about International Baccalaureate
What does the IB Programme look like at WMS?
The IB programme is a school within a school at WMS. Students in the programme interact with students in the larger school community in elective classes, at lunch and in extracurricular activities. In classes that are required, students in the programme will be on the same team and in the same classes with other students in the programme. This will help to promote each of the learner profile traits and mission of the International Baccalaureate.
What subject groups are studied using the MYP framework?
Language acquisition
Language and literature
Individuals and societies
Sciences
Math
Arts
Physical/health education
Design (technology)
MYP students also participate in a personal project which provides the opportunity for students to undertake an independent project in an area of interest.
Video provided by IBO
At WMS, the arts portion of the programme is anything within the visual and performing arts. Elective classes in orchestra, band, choir, theater, drawing and painting, pottery and sculpture, and some others would qualify as an IB arts class. These courses cannot be guaranteed to be offered when students are making their selection for an arts course based on scheduling and enrollment, but many will be available.
The physical education and technology portion of the programme will be offered at the end of each day for additional credit. This portion of the programme will focus on physical education and preparing to participate in a personal project. This is a daily alternating offering, therefore students will participate on alternating days or could be in five days of physical education and five days of technology every two weeks.
IB Encourages International-Mindedness
IB students are encouraged to be internationally-minded. To do this, we believe that students must first develop an understanding of their own cultural and national identity. IB MYP students are required to learn a foreign language. In many of their classes, they discuss what they have learned and how it relates globally and culturally. Valuing multiple perspectives is a big part of the entire curricular program and is taught through many activities across the subjects. Many school events, classroom speakers and field trips are based in this. Students are also encouraged to participate in community service and other activities that promote understanding between and within cultures.
IB is a Method of Curriculum Delivery
IB is a method of delivering curriculum; it is not a different curriculum than the general curriculum. Students are still taught the components of Michigan's common core curriculum and are responsible for the same standards as other students. The difference is in the delivery of that curriculum. IB students have the curriculum delivered in different ways (conceptual, trans disciplinary, etc).
What is the Learner Profile?
Learner Profile - International Mindedness

Inquirers: I ask questions
Thinkers: I use my mind to consider ideas and make judgments
Communicators: I can express myself in many ways
Courageous: I am willing to take chances for greater success
Knowledgeable: I know a lot about many different things
Principled: I understand the difference between right and wrong and make good choices
Caring: I am compassionate and show concern for others
Open-minded: I am willing to listen and consider everyone's point of view
Balanced: I have many interests. I work and play hard
Reflective: I think deeply about myself, my learning and others

Action

Student initiated demonstrations of deeper learning through service to fellow students, the school and community.
Students learn to choose appropriate actions to take, implement their own action plans and reflect on the process and results of their actions.
Self-initiated action is an authentic result of student learning in an IB school.

Attitudes

Appreciation
Commitment
Confidence
Cooperation
Creativity
Curiosity
Empathy
Enthusiasm
Independence
Integrity
Respect
Tolerance
What key concepts are used in the MYP framework?
Key concepts are broad ideas that have relevance within all subject groups and are a powerful tool of inquiry. These concepts aid disciplinary and interdisciplinary learning, as well as connections to other subject groups. Key concepts utilized are:
Aesthetics
Change
Communication
Communities
Connections
Creativity
Culture
Development
Form
Global Interactions
Identity
Logic
Perspective
Relationships
Sustainability
Systems
Time, Place & Space
What does it mean to teach and learn in context?
Learning that occurs out of context or that doesn't establish a connection to a student's experiences, it is often short-lived. MYP provide possible directions for contextual learning through issues and ideas that are of personal, local and global significance, thereby helping students develop a shared guardianship of the planet and understanding of their common humanity.
Where can I learn more about MYP at TCAPS?
*TC West Middle School is a candidate school** for the Middle Years Programme. This school is pursuing authorization as an IB World School. IB World Schools share a common philosophy—a commitment to improve the teaching and learning of a diverse and inclusive community of students by delivering challenging, high quality, programmes of international education that share a powerful vision.
**Only schools authorized by the IB Organization can offer any of its three academic programmes: the Primary Years Programme (PYP), the Middle Years Programme (MYP), or the Diploma Programme (and in addition, the IB Career-related Certificate). Candidate status gives no guarantee that authorization will be granted.


Further information about the IB and its programmes