Parents & Students
Below you will find information, resources and links to the most commonly asked for information.
Paying Tuition w/E-Funds
The online extended day registration and tuition payment processes are completed through the

PowerSchool (Parent) Public Portal. Before starting the registration process, you will need to have your child's unique PIN number which can be obtained from your child's school office.
PowerSchool Public Portal Information
E-Funds Information
For additional registration information contact the Early Childhood office at 231.933.1759 or maierni@tcaps.net.
PowerSchool Public Portal
PowerSchool Public Portal can be accessed by both students and parents to view class schedules, keep track of grades and attendance, set up email notifications, and receive comments from teachers.
PTO Information
Old Mission Peninsula School PTO invites all parents to get involved in school activities and events and/or considering becoming a member of the PTO board. The PTO works throughout the year to bring quality enrichment opportunities to our students as well as raise funds for student programming. PTO meetings are held once a month and are open to the public. All Old Mission families are encouraged to attend. Please join us to learn more.
Visit our PTO webpage for meeting dates, times and board contact information.
Visit our PTO Facebook for event photos, updates and more.
SnowDays
There are multiple ways you can find out if school is closed due to inclement weather:
All local radio and televisions stations announce school closings on a regular basis
Call the bus hotline - 231.933.1955
Visit the district website or the school website. A pop up will come on the screen if there is a closing alert (pop up blocker must be turned off)
Want more information? View

Snow Day FAQs
Translation Services
Translation of any documents, or during any meeting, will be provided for any parent who requests translating. The process to request translation is:
Contact your school and make a request. The school will then make the request through the Human Resources Department, and a translator will be provided. A school may use the Tele-Interpreter Service if no translator is available, or if translation services are an immediate need.
Volunteering
Make a Difference by Getting Involved
The many parent and community volunteers involved on a daily basis at Old Mission Peninsula School touch the lives and improve the education experience of our children and create a warm, loving environment.
Parents can be involved with their children's education and experiences in many ways, starting at home by showing an interest in and being involved in their children's homework and assignments, and also at school by attending conferences and special events. Parents can also be involved by volunteering at school, both during the day and in the evenings. At Old Mission, there are always plenty of opportunities for parents to help in classrooms, participate in holiday parties, help at Scouts and sports, and attend field trips. Old Mission's heavy parental involvement, both at home and in school, models to the students the importance of their education and leads them to value it, as well.
If you are interested in volunteering, please contact the main office or speak with your child's teacher. All volunteers will need to complete the district's online volunteer application and a background check before volunteering at the school. To complete the application and for more information on volunteering, please visit the

district's volunteer page. Thank you for your support!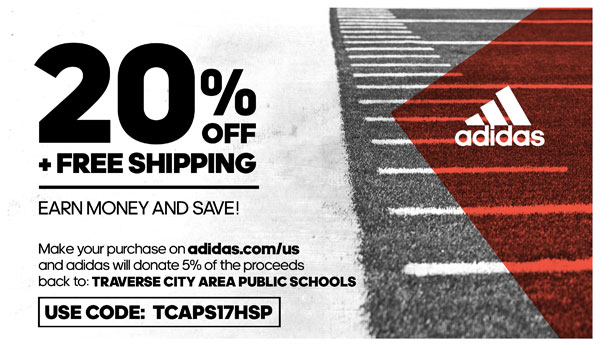 adidas discount now available to all TCAPS families!
New Partner In Education, adidas, is offering all TCAPS families a 20% discount and free shipping of their purchases at

adidas.com/us. Simply enter code at checkout to apply discount and in addition to the discount, TCAPS will receive 5% back to support athletic trainers and supplies for students. Offer is valid through December 31st, 2017. Promo code must be entered at the time of purchase for TCAPS to receive the donation credit. Offer cannot be combined with other offers. Offer is not valid on prior purchases. Exclusions apply, including but not limited to: Yeezy, NMD, Parley, Ultra Boost, PureBOOST X, limited edition Originals, adidas by Stella McCartney and gift cards. Valid on domestic U.S. orders only. adidas reserves the right to change terms and conditions, substitute offer of equal or greater value and end offer at any time without notice. Void where prohibited or restricted by law.