Youth Learn to Sail
LEAP Youth Learn to Sail
For students age 8 – 17 years
About the Program
What better way to spend the summer than an adventure of sailing on the beautiful, protected waters of Boardman Lake in Traverse City? LEAP is partnering with Traverse Area Community Sailing to offer students, ages 8-17, the opportunity to learn the art and fun of sailing! Instruction is customized to the student and specifically designed to teach sailing basics and beyond. This program builds self-esteem and personal confidence in a fun-filled stimulating environment.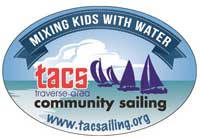 Beginning students each have their own Optimist Dinghy, sized just for young sailors: 8-foot-long wooden sailing prams that are lightweight, safe and stable. These craft are so easy to operate that they are the world-wide choice of junior sailing programs.
More advanced sailors will sail in the new Open Bics, Club 420s or Lasers. Students will be asked to demonstrate that they can swim with the aid of their life jackets (this is really to demonstrate that they are comfortable in the water while wearing life jackets). While Traverse Area Community Sailing has a limited number of life jackets for use, students are encouraged to provide their own for better fit and regular use after the class. We will sail in the rain so clothing appropriate to the weather should be provided. We require closed toe shoes (tennis shoes, boat shoes, crocs, anything that encloses and protect the student feet). Towels, a water bottle, a change of dry clothes and snacks are often appropriate. Youth Learn to Sail will be held in two-week sessions with half day or full day options.
Half day sessions are recommended for children under the age of 12.
For more information, please contact Traverse Area Community Sailing at 231.922.5922 or tacs@tacsailing.com.
Program Location
650 Hannah Ave, Traverse City
Schedule
Youth Sailing Session 1: June 19 – 30, 2017
Youth Sailing Session 2 : July 10 – 21, 2017
Youth Sailing Session 3: July 24 – August 4, 2017
Youth Sailing Session 4: August 7 – 18, 2017
Participation Fee
$275 for half day sessions: 9:00 AM – 12:00 PM or 1:00 PM – 4:00 PM
$510 for full day sessions: 9:00 AM – 4:00 PM
Reduced rates are not available for this program.