Track & Field (Gr. 4-5)
2016-2017 LEAP Co-Ed Track & Field
For Grades 4-5

Program Structure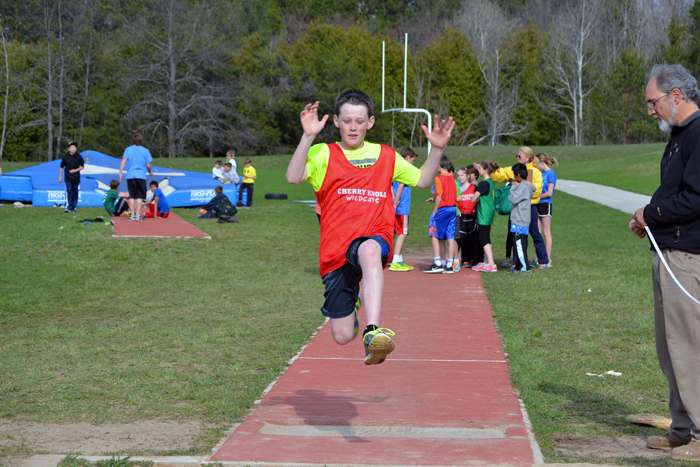 Track & Field is open to boys and girls in 4th and 5th grades starting the week of April 3, 2017, and will run for six weeks. Teams will be formed at each elementary school. Students will be able to participate in running and field events.
Registration Close
March 23, 2017 (After this date, a $25 late fee will be added to the cost of registration.)
Season Start and End Dates
Practice
Practice will run 1-3 days per week after school at each home school. Exact practice days and times will be determined by the availability of the volunteer coach and will not be known until a coach is in place. Schedules vary from school to school. Following the close of registration, your student's coach will contact you regarding a more detailed schedule.
Meet Schedule
Central League will have meets on Tuesdays at 5 PM at East Middle School on the following dates: April 18, 25, May 2, and 9.
West League will have meets on Thursdays at 5 PM at West Middle School on the following dates: April 20, 27, May 4 and May 11.
Elementary LEAP Track – Order of Events
55 Meter Hurdles (Blocks)
55 Meter Dash (Blocks)
100 Meter Dash (Blocks)
200 Meter Dash
4th Grade 200 Meter Relay
200 Meter Relay
400 Meter Relay
800 Meter Relay
400 Meter Run
800 Meter Run
1600 Meter Run
Important Meet Information
ONLY PARTICIPANTS, COACHES AND ASSIGNED MEET VOLUNTEERS, are allowed on the infield during meets. All others must be behind the fencing and/or in the stands.
NO PETS are allowed at any TCAPS events. Please do not bring your pets to the track meets as this is a school policy and is in place for the safety of everyone.
We rarely cancel track meets so please send your child to meets prepared for all weather conditions. Include shorts, pants, t-shirt, sweatshirt, jacket, tennis shoes, gloves and a water bottle. As the night progresses the weather can dramatically change.
Participation Fee
$50 if registered by March 23 or $75 if registered after the deadline.
Reduced rates are available to those who qualify for the free and reduced meals program. Participation fees for those that qualify are as follows:

Reduced Meals Participation Fee: $25 if registered by the deadline.
Free Meals Participation Fee: $12.50 if registered by the deadline.
Registration
Payment is required at the time of registration. To register online using a MasterCard or Visa, please follow the link below. Payment with cash or check can be made in the LEAP office located at Central High School, 1150 Milliken, Traverse City. Please use the main school entrance, the LEAP office is located just inside the doors to the right. Office hours: Monday – Friday, 8:30 AM – 4:30 PM. Please call the LEAP office at 231.933.1758 for more information.
Registration for 4th & 5th Grade Track is Closed.

NOTE: Registration is not complete until you receive an email from Byte confirming the registration. If you do not receive this email within 5 minutes of registering, submit the information again or call the LEAP office (231.933.1758) for assistance. If you did not receive an email from Byte, the payment did not process and the student is not registered.