LEAP Girls' Basketball
2016-2017 LEAP Girls' Basketball
For Grades 6-8

About the Program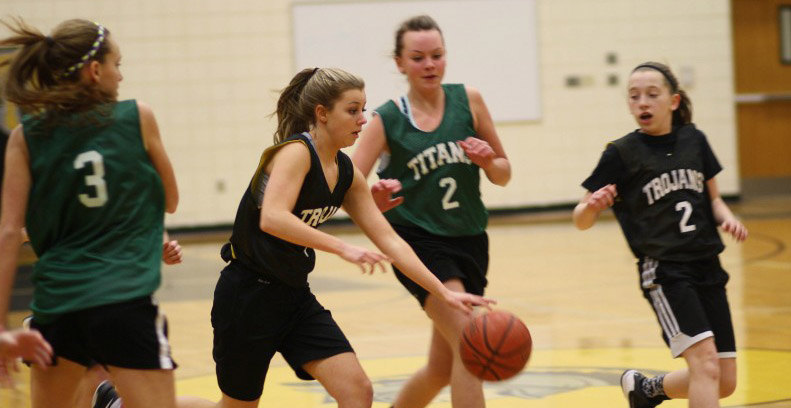 LEAP middle school basketball welcomes 6-8 grade students of all ability levels and experience. This eight-week program of educational athletics will focus on skill development, gaining an appreciation for the sport of basketball, and teamwork. Effort, attitude, and commitment will directly influence individual growth within the program. A high level of sportsmanship will be expected of all involved with the program.
Program Structure
LEAP will provide each participant with a dri-fit shirt to keep.
Preliminary evaluations will begin during the first week. When evaluations are complete, students will be assigned to tiers for the second part of skill development, practices and team placement. There are three tiers: Gold, White and Black/Green
Once players are assigned to a team, each team will have 4-6 hours of on-court direct instruction each week. Practices during any one-week may include any of the 7 days during the week and will be between 1 and 2 hours long on any given day (based on the availability of the coach and facilities). Practice start times will range from immediately after school to 8 PM. Weekend practices may be scheduled and would range from 9 AM to 6 PM on Saturdays and/or 1 PM to 6 PM on Sundays.
Weeks 5 through 8 will include each team/player playing two games each week and having a recommended 3-4 hours of on-court direct instruction each week with their coach.
Games will be officiated by registered officials, score will be kept. Games will be between teams of the same tier and will include games within each school and against teams from the other TCAPS middle school. The black/green tiers will be comprised of four TCAPS teams and an eight game schedule will be created. In an effort to avoid having multiple repeat opponents, outside teams will be scheduled for the green/tier games wherever possible within the confines of the LEAP schedule. Those teams will be invited to play in our gyms on our identified game nights. At this point in time, our teams will not travel to other schools or play on nights that are not already deemed LEAP game nights.
All games will be held at either East Middle School or West Middle School on Mondays and Wednesdays. Games will be scheduled between 4 PM and 8 PM. End of season tournaments will be held during the week of February 20.
In the event school is closed, no LEAP activities will be held per TCAPS policy. There is no guarantee of a make-up date in the case of inclement weather. Missed games will only be made up if schedules allow.
Registration Close
December 22, 2016 (After this date, a $25 late fee will be added to the registration fee.)
Preliminary Evaluation Clinics
East Middle School – January 3, 4, 5 & 6
All Grades – 3:00 PM – 5:30 PM

West Middle School – January 3, 4, & 5
6th Grade – 2:45 PM – 4:15 PM
7th Grade – 4:15 PM – 5:45 PM
8th Grade – 5:45 PM – 7:15 PM
Tier lists will be posted in each wing office the morning of Friday, January 6
January 6
Gold Tier – 2:45 PM – 4:14 PM
White Tier – 4:15 PM – 5:45 PM
Green Tier – 5:45 PM – 7:15 PM
Game Schedule
Tournament Schedule
2016-2017 Sports Physical Requirement|
All 6th, 7th & 8th grade students must have a physical dated on or after April 15, 2016, on file prior to the start of their sports season. The physical form gives TCAPS representatives the ability to authorize treatment in case of a medical emergency. Once on file, sports physicals are good for one school year. Physical forms can be turned into main office at East Middle School and the North Wing Office at West Middle School.


Download sports physical form
Participation Fee
$125 before registration deadline of December 22 or $150 after the deadline.
Reduced rates are available to those who qualify for the free and reduced meals program. Participation fees for those that qualify are as follows:

Reduced Meals Participation Fee: $70 if registered by the deadline.
Free Meals Participation Fee: $40 if registered by the deadline.
Milk Crate Basketball Assistance
Need an "Assist" this season? LEAP is proud to partner with Milk Crate Basketball, a local nonprofit organization assisting KIDS IN NEED with resources to play and enjoy the game of basketball. Through donations and merchandise sales, Milk Crate Basketball provides kids with a wide range of items needed in order to play and enjoy basketball — shoes, basketballs, hoops, athletic wear, registration fees, etc. [

Download the Assist Application for this season.]
Want to learn more about Milk Crate Basketball? For more information: visit

www.milkcratebasketball.org.
Admission Prices
LEAP middle school football, basketball and volleyball activities are as follows:
Regular Contests

Adults - $3.00
Students - $2.00
Children 5 & Under - Free
Tournaments

Adults - $5.00
Students - $3.00
​Children 5 & Under - Free
All-Access Sports Passes
All-Access Sports Passes are available for purchase and include admission to all LEAP and TCAPS high school athletic events. MHSAA tournaments are excluded. Prices are $90 adults, $60 students, and $30 seniors. Passes can be purchased from the LEAP Office, located at Central High School as well both high school athletic offices.
Registration
Payment is required at the time of registration. To register online using a MasterCard or Visa, please follow the link below. Payment with cash or check can be made in the LEAP office located at Central High School, 1150 Milliken, Traverse City. Please use the main school entrance, the LEAP office is located just inside the doors to the right. Office hours: Monday – Friday, 8:30 AM – 4:30 PM. Please call the LEAP office at 231.933.1758 for more information.
NOTE: Registration is not complete until you receive an email from Byte confirming the registration. If you do not receive this email within 5 minutes of registering, submit the information again or call the LEAP office (231.933.1758) for assistance. If you did not receive an email from Byte, the payment did not process and the student is not registered.