LEAP Co-Ed Flag Football
2016-2017 LEAP Co-Ed Flag Football
For Grades 2-5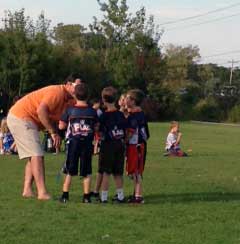 LEAP co-ed flag football is open to all 2nd-5th grade students. The LEAP flag football program partners with the NFL flag football program to offer this exciting opportunity for elementary students to learn the basic fundamentals of the game. Along with the LEAP staff, this program is overseen by the Central High School and West Senior High School coaching staff.
NFL Flag Football Program Structure
2nd/3rd grade combined co-ed teams
4th/5th grade combined co-ed teams
Teams of 7-10 players
5-on-5 play
Grades 2-5 flag football will take place on Mondays, Wednesdays, and Saturdays. Practice will start Monday, September 19, 2016. A mini-camp will be held on Saturday, September 24, from 10:00 AM – 11:30 AM. The camp will be held at West Middle School as well as Central High School. Mondays will be practice days. Wednesdays will be inter-league play with games being held at the Meijer fields as well as elementary schools for west league and Carlisle Fields and various elementary schools for the east league. Saturday will be game/clinic days for all grades run by the high school coaching staff with the support of the Central High School and West Senior High School players. With the exception of the first Saturday, each Saturday clinic date will consist of approximately 30 minutes of skills and drills and 45 minutes of games. The games on Saturday, October 22, will be played at Thirlby Field starting at 9:00 AM.
Registration Ends
September 7, 2016
Due to the deadline for LEAP to place NFL jersey orders, no late registrations will be accepted.
Practice days: September 19, 21, 26, October 3, 10, 17
(practice times are dependent upon the availability of the volunteer coach)
Wednesday Games: 9/28, 10/5, 10/12, 10/19
Game times: 5:30 PM
Saturday Games: September 24 (clinic), October 1, 8, 15, 22
(Clinics and games begin at 9:00 AM)
Season Ends
October 22, 2016 (Thirlby Field 9:00 AM)
Participation Fee
$65 – all registered participants receive an NFL reversible jersey.
There are no reduced rates available for this program.
No late registrations accepted.
Registration
Payment is required at the time of registration. To register online using a MasterCard or Visa, please follow the link below. Payment with cash or check can be made in the LEAP office located at Central High School, 1150 Milliken, Traverse City. Please use the main school entrance, the LEAP office is located just inside the doors to the right. Office hours: Monday – Friday, 8:30 AM – 4:30 PM. Please call the LEAP office at 231.933.1758 for more information.
Registration is closed. Please call the LEAP office at 231.933.1758 to be placed on a waiting list for your school's team.
NOTE: Registration is not complete until you receive an email from Byte confirming the registration. If you do not receive this email within 5 minutes of registering, submit the information again or call the LEAP office (231.933.1758) for assistance. If you did not receive an email from Byte the payment did not process and the student is not registered.