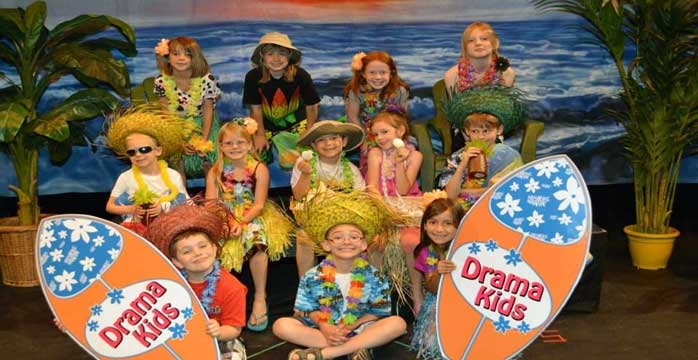 LEAP Drama Kids
LEAP Drama Kids
For Grades 1-5
LEAP is pleased to offer an exciting afterschool program at several TCAPS elementary schools. This program is called Drama Kids and will be run by Rachael Harrell the executive director of Drama Kids Northern Michigan.
About the Program
Drama Develops Kids! Enthusiastic students who learn to speak out clearly and relate confidently with others will have an inside track to lifetime success. Our specialty is using a wide range of unique drama activities to focus the bold, outspoken child and to draw out the quiet child or the inarticulate child and help them reach into themselves to discover their full potential.
Drama Kids has no auditions and every student is a star. We are committed to creating a fun atmosphere for our students to practice a wide set of skills and shine. Spring Term offers experience of performing a short, original play on the Central High School stage!
"Paradesia" - Lower Primary (1st-2nd grades)
Aloha! A gorgeous tropical and seemingly tranquil tropical island holds a surprise for its serene residents. These islanders must work together through a crisis by listening to two island children, whose connection with their beautiful home warns them of impending danger!
"The Bold Buccaneers" - Upper Primary (3rd-5th grades and Combined/Composite classes)
It's a pirate's life for them, but what happens when some sailors from His Majesty's Royal Navy get picked up by the pirates? Put a group of rough and tumble personalities on one ship and SOMEBODY may have to walk the plank!
Classes are held one day per week for one hour, starting 10 minutes after school concludes for the day. There are 14 sessions per term.
All classes start 10 minutes after school dismissal and last one hour.
The Spring session offers the experience of performing a short, original play at Central High School .
Signup online directly with Drama Kids.
Questions: please call Drama Kids at 231.432.8764.
10% discount for siblings.
Referral discounts available.
The determination on whether to split the schools into upper primary and lower primary groups or to have a combined production will be dependent on enrollment numbers.
Participation Fee
$156 per 14 week session
Reduced fees are not available for this program.
Drama Kids Schedule
2017-2018 schedule to be determined.