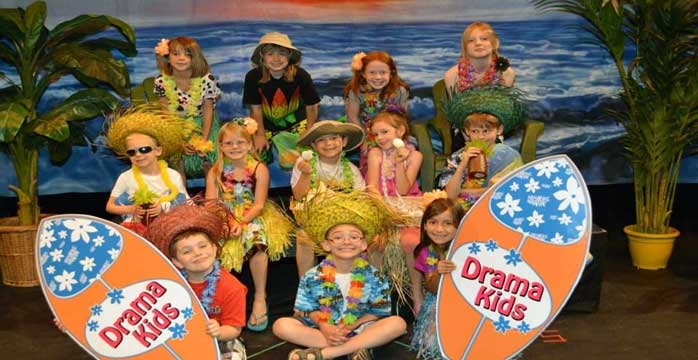 LEAP Drama Kids
LEAP Drama Kids
For Grades 1-5
LEAP is pleased to offer an exciting afterschool program at several TCAPS elementary schools. This program is called Drama Kids and will be run by Rachael Harrell, the executive director of Drama Kids Northern Michigan.
About the Program
Drama Develops Kids! Enthusiastic students who learn to speak out clearly and relate confidently with others will have an inside track to lifetime success. Drama Kids' specialty is using a wide range of unique drama activities to focus the bold, outspoken child and to draw out the quiet child or the inarticulate child and help them reach into themselves to discover their full potential.
Drama Kids has no auditions and every student is a star. We are committed to creating a fun atmosphere for students to practice a wide set of skills and shine. Spring Term offers experience of performing a short, original play on the Central High School stage!
Classes are divided into two age groups lower primary (Grades 1-2), and upper primary (grades 3-6); Groups may be combined depending on class numbers.
Fall Term (October through January)
Our classes include a variety of stimulating dramatic lessons perfectly suited for most elementary school children. Students receive individual instruction customized for their own particular requirements and abilities.
Students in our program participate in a wide range of creative activities including speech, dramatic movement, improvisation, snippets and scene starters.
Fall term includes a "Bring Your Mama to Drama" day and ends with a parent presentation. Students are encouraged, but not required, to participate in both Fall and Spring terms.
Spring Term (February through the first week of May)
Spring term continues developing life and acting skills from prior terms. Students are encouraged, but not required, to participate in both Fall and Spring terms.
At the end of the Spring term, students utilize all the skills acquired to create a short, scripted production, which is performed on the Central Hight School Stage for parents and friends.
This year's Spring plays will be announced in January!
In a fun-filled atmosphere, our classes aim to give young people ongoing confidence, self-esteem and skill in verbal communication.
Participation Fee
$156 per 12-14 week session; there is an additional $20 performance fee for Spring term.
Registration is ongoing. Pro-rating is available.
Reduced fees are not available for this program.
2018 Summer Camps
Drama Kids Summer Camp Registration Opens March 27, 2018.
Acting Up
Grades 1-3
Do you like to pretend? Pretending is just like acting. Discover the world of theatre in this action-packed week. Each day begins with fun drama games and various drama activities to warm up your creativity. You'll learn acting skills while developing public speaking skills and gaining confidence. All of this while having a fun pretend adventure. Put together fun skits based on new stories and old favorites. At the end, you'll put on show for your family and friends.
August 13-17, 2018
Monday - Friday
1:00 PM - 3:00 PM
Actor's Workshop
Grades 7-10
Have you imagined yourself on stage or do you want to further develop your acting and theatrical skills? Develop your creative abilities as you learn to work with others to write, produce, and act in a play - that you create! Learn the art of acting, playwriting, and directing through exercises in dialogues, conflict and confrontations, and improvisations. Demonstration and guided practice helps develop creativity and confidence, work on practical skills like literacy and public speaking and leads to a final performance for family and friends on the last day.
July 9-13, 2018
Monday - Friday
1:00 PM - 4:00 PM
The Actor in You
Grades 4-6
Let's put on a play! Show off your creativity by creating a script, inventing characters, designing a set, and performing it all in front of a live audience. You'll also work on practical skills like acting, literacy and public speaking. Gain independence and self-esteem as you work with your team to create your own play. Story, art, stage, and acting come together to make a theater experience come alive. Family and friends are invited to the Friday performance.
August 6-10, 2018
Monday - Friday
1:00 PM - 4:00 PM

Learn More and/or Register for Drama Kids Summer Camps

Visit the Drama Kids website.